Welcome to the Summer 2016 Tennis Program at ECC. Your suggestions continue to help plan the best summer of tennis at the club. We look forward to you and your family enjoying all that is available.Feel free to give your feedback on all/any tennis related matters.
Don Matrin USPTA/PTR – Head Professional, ECC
ECC Member Junior Tennis Programs
June 7 – July 15
The Country Club league for Middle and High school continues to evolve. The season ending championships have been expanded this summer with the addition of a new team. From the beginner to advanced, all are invited and encouraged to be part of this program. Quick Start Tennis is the plan for all youth 10 and under. It is a play based format that gets young children playing tennis instantly. Utilizing special equipment, shorter courts, modified scoring, and a unique lesson plan that focuses on movement, tracking, and throwing skills. A brief description of each is listed. New this year is one session for the season, combined with weekly play opportunities on Friday afternoons for Beginners and Advanced Beginners.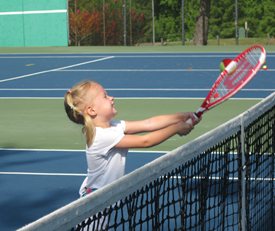 Little Tennis
Your child's first experience on a tennis court. An informal setting that establishes a foundation of athletic skill development. Basic movement and coordination skills are introduced. They learn to send (throw) and receive (catch) the ball with hands, racquets and other adapted equipment.
Fee: $50 session | $6/class
Beginners
This level is developed for movement, balance, coordination and motor skill development, with a focus on self and partner rallying skills. They learn the early stages of cooperative tennis, as well as adaptive skills that form the foundation of future athletic development.
Fee: $100 session | $12/class
Advanced Beginners
Your child will learn to move effectively so as to ensure good balance and position for incoming balls. They will adapt to a variety of positions, as well as control the follow through, dependent on court position.
Fee: $100 session | $12/class
Middle School Team (entering grade 6-8)
This program is for all players. Players will drill and play. They will be exposed to all basic skills with a technical, tactical, and competitive component. MST is play based and prepares all levels for the Country Club League. MST is designed to install a love of tennis and prepare each for high school tennis if that is their plan.
Fee: $125 session | $12/class
This program is for all players. HST not only prepares all for the Country Club League but involves drills and competitive play situations that are incorporated into high chool programs. Concepts of offense and defense as well as situational play are covered.
Fee: $150 session | $15/class
Super Saturday 10 & Under Events
These events are designed for beginners and advanced beginners to play in a modified competitive format. All play is followed up with pizza! A great opportunity for the whole family to come out and watch what is being learned.
No Fee: lunch extra
The Tennis Shop is open to ECC members from Memorial Day to Labor Day.
Contact the Tennis Pro Shop at 812-422-7371.